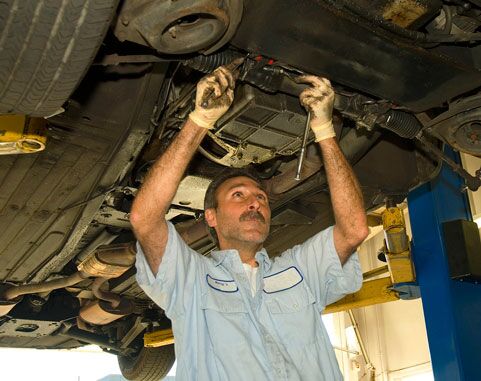 Welcome to El Camino 76!
Best Auto Repair in Los Altos, CA
You can recognize a good automotive shop not just from the level of workmanship, but also from how you are treated by the staff. At El Camino 76, you will receive a warm welcome that is immediately reassuring. Then you will be pleasantly surprised by the state-of-art equipment and tools, the highly trained and knowledgeable technicians and the prompt service.
Welcome to the world of El Camino 76! This is what we have to offer every single car owner who visits. We are the one-stop destination for auto repair in Los Altos, CA.
Why Choose Us?
El Camino 76 has been offering quality auto repair services since 1989 and over the years we have built a reputation of being reliable, trustworthy and fairly priced. Here are a few reasons that should convince you why El Camino 76 should be your go-to shop for auto repair in Los Altos, CA.
Professional level knowledge and experience in auto repair and preventive maintenance
Superior customer service which makes each customer feel special
Highly trained mechanics who know exactly what they are doing – and why
The latest equipment and tools to carry out repairs, checks and maintenance
A friendly, clean and welcoming ambience
Price transparency
OEM parts
A warranty on labor
Some auto repair shops think nothing of over-charging customers to make the most on one visit. El Camino 76 on the other hand believes in forging and nurturing long-term relationships with every single customer. We want you to be pleased with the service you receive so that when you think of auto repair you think of El Camino 76.
Our Services
Below is a short-list of some of the services we offer. Don't hesitate to give us a call if the service you need is not listed. We are experienced in all aspects of mechanical repair so even if you have something unusual El Camino 76 has the technicians to be able to diagnose and repair it.
Preventive Maintenance
Scheduled Maintenance Services
Engine diagnostics and troubleshooting
Check engine light code diagnosis
Smog checks and repairs
Air conditioning and auto AC repair
Electrical system analysis and repair
Disc brake and drum brake service
Tune ups and oil changes
Suspension component replacement
Axle and drivetrain service
CV joint replacement
Clutch replacement and service
Automatic transmission service
ABS service and electronic brake repair
Traction control system repair
And lots more!!
El Camino 76 strives to offer the best quality auto repair in Los Altos, CA. Call us today at (650) 941-0244 and schedule an appointment. You won't be disappointed!
Business Hours
Monday
8:00AM – 5:00PM
Tuesday
8:00AM – 5:00PM
Wednesday
8:00AM – 5:00PM
Thursday
8:00AM – 5:00PM
Friday
8:00AM – 5:00PM
Saturday
8:00AM – 5:00PM
Sunday
Closed